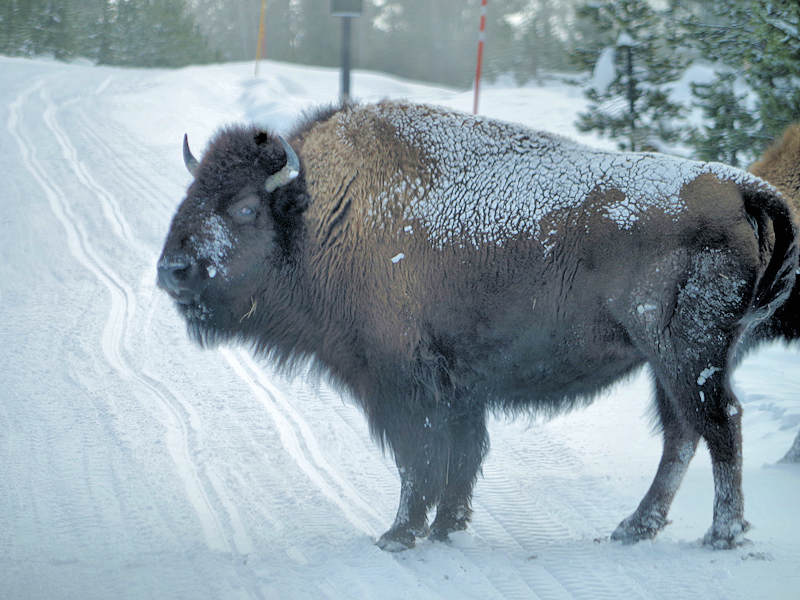 Our winter "snowcation" to Yellowstone National Park in 2016 was magical to say the least. About 28,000 people visit the 2.2-million acre park each January – compared to almost a million in July! So it's the perfect time to escape the crowds and enjoy solitude in the great outdoors. While winters can be harsh with many feet of snow, getting around is easy.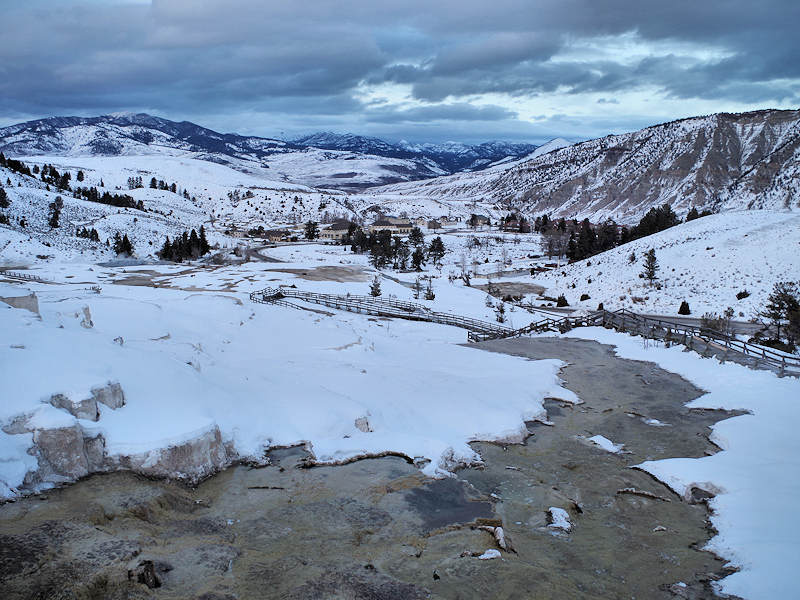 We flew into the Bozeman airport and picked up by the Yellowstone shuttle to reach Mammoth Springs Hotel (down in the valley) for our first night. Inside the park, most stores, restaurants and lodges close for the winter.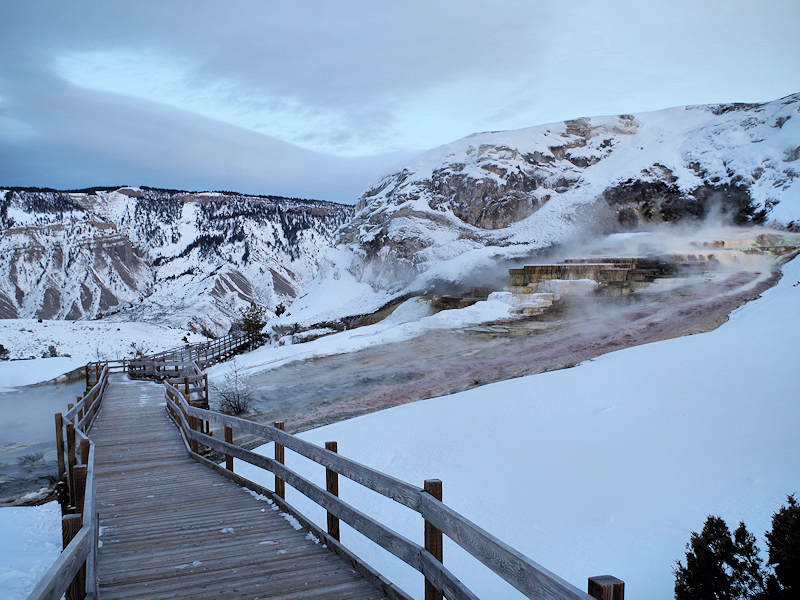 Hiked by the terraces of the sulfur springs via the boardwalk, usually packed with visitors in the summer.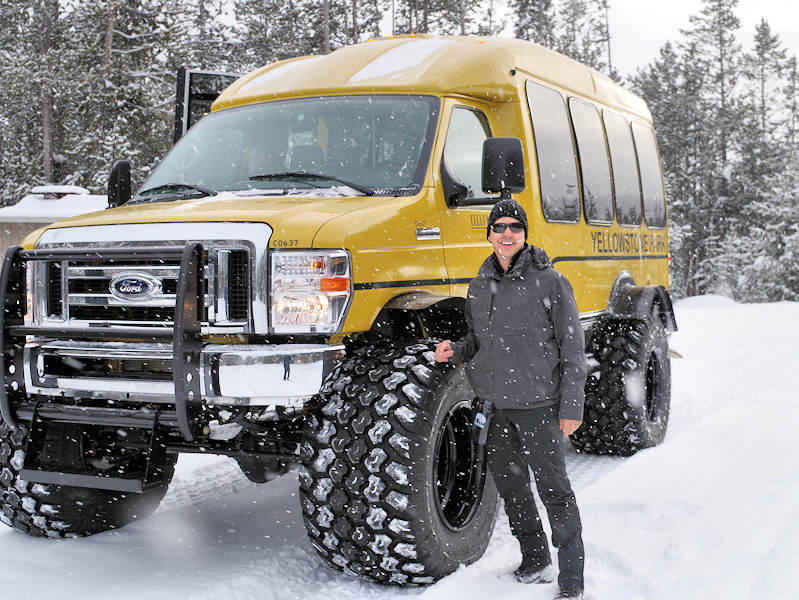 The Yellowstone snowcoaches are your primary transportation throughout the park. During our next few days, we stayed at the Old Faithful Snow Lodge. From there, you can book a variety of excursions or set out for snowshoeing and watching Old Faithful erupt.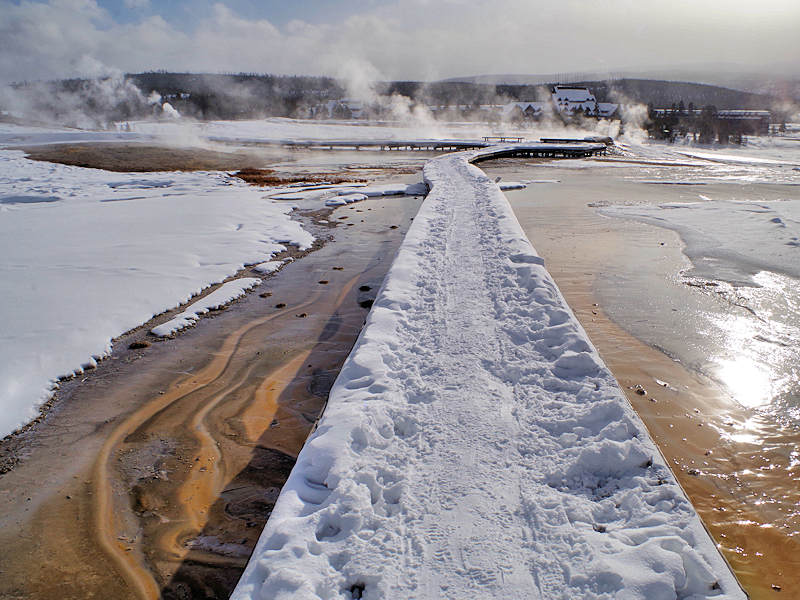 The hydrothermal features in the park are extra steamy in the winter, creating some "other world" landscapes. Walk the boardwalks throughout the basins by Old Faithful for up-close views of geysers and other thermal features. See… all alone!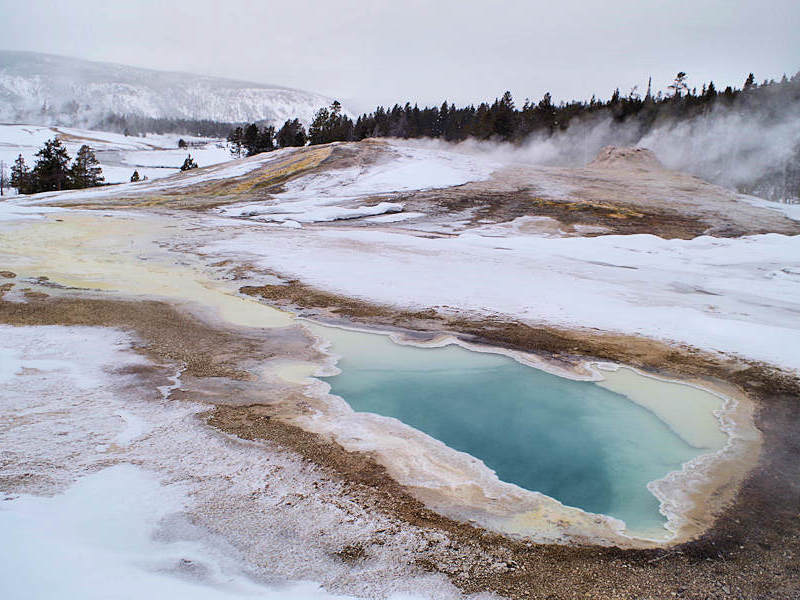 Yellowstone is home to 60% of the world's geysers. The Upper Geyser Basin at Old Faithful has 150 of them!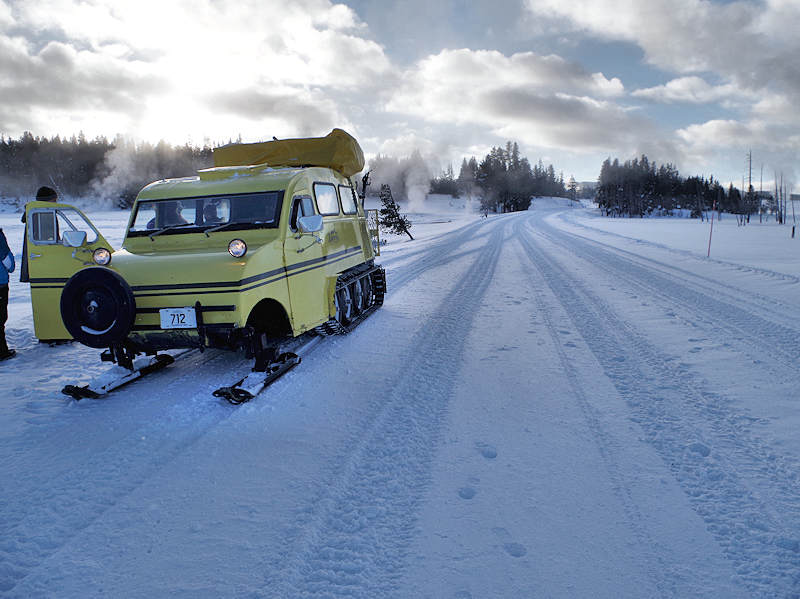 During our stay at the Snow Lodge by Old Faithful, we booked a full-day park tour via the historic Bombardier snow bus!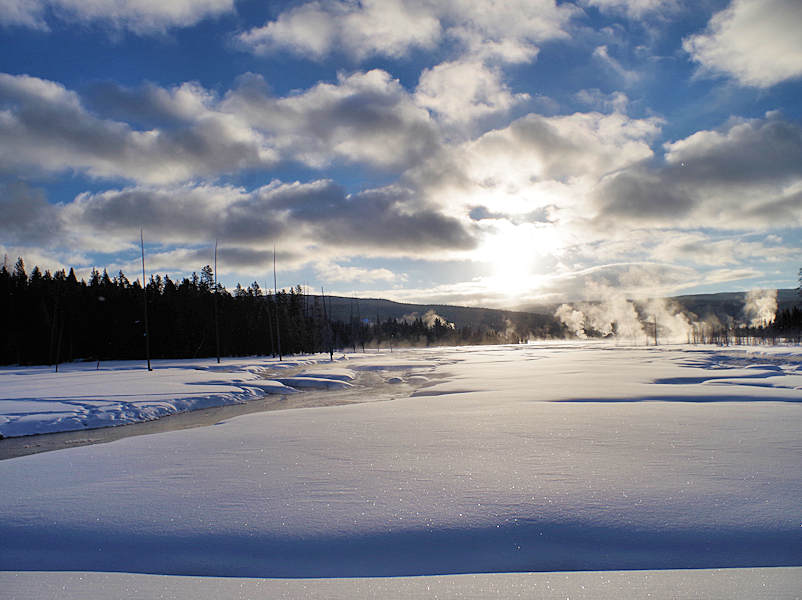 Each night, the main roads in the park are groomed (not plowed) so snowcoaches can take visitors to see the stunning scenery.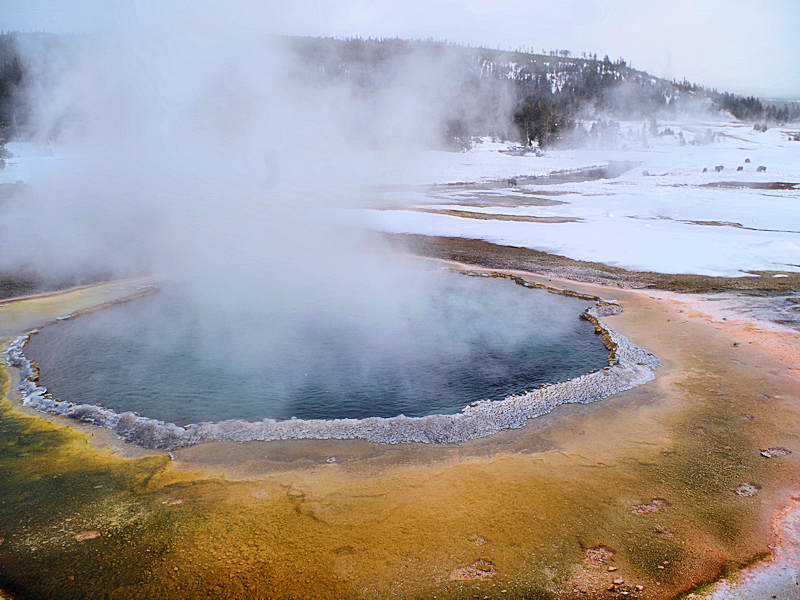 We lucked out with daytime temperatures in the 20s. Be prepared for sub-zero weather!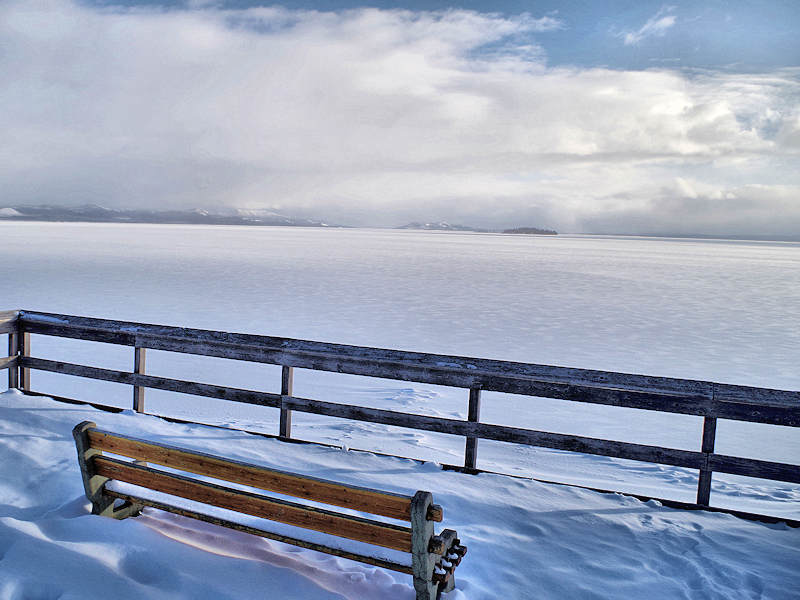 Yellowstone Lake was completely frozen over with feet of snow on top.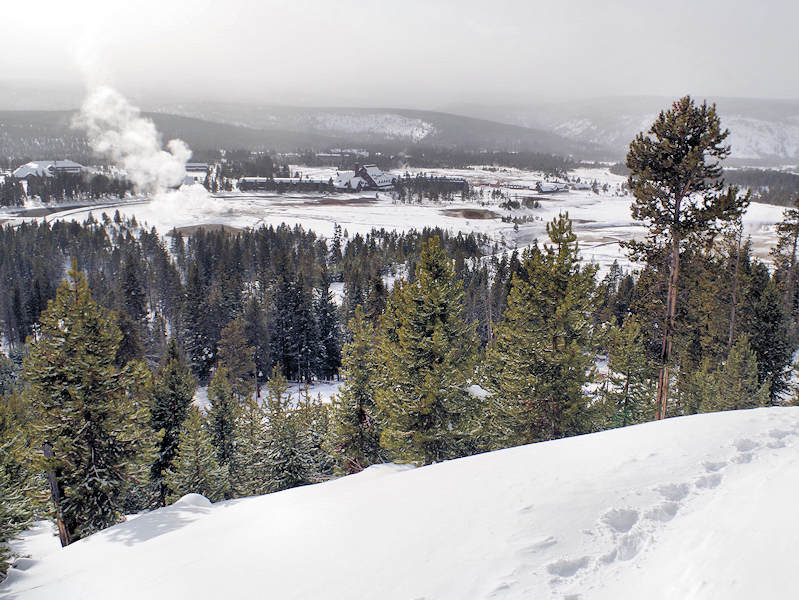 Our hike above Old Faithful provided a panoramic view of the erupting geyser. While snowshoes were available, the major trails were packed enough for our boots.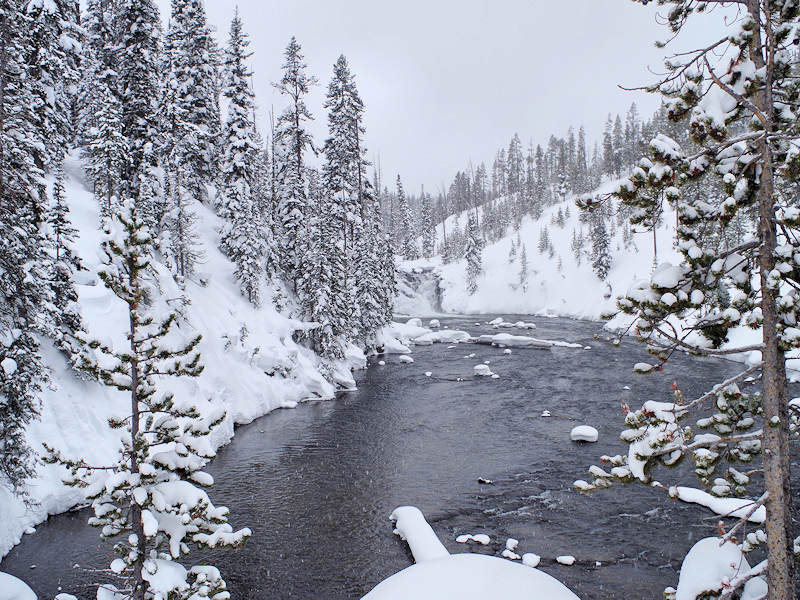 The water flowing from the hot springs kept this river from freezing over.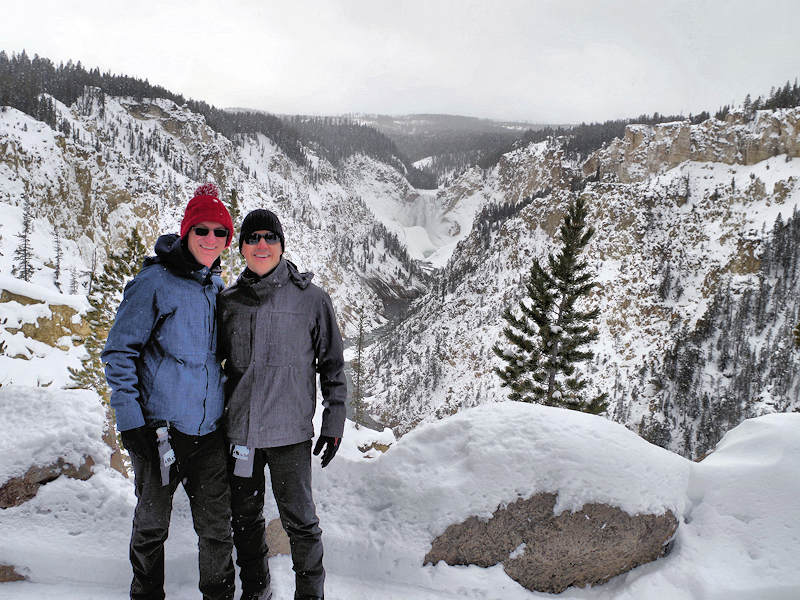 A must-see is the Grand Canyon of Yellowstone, with frozen Lower Falls in the distance.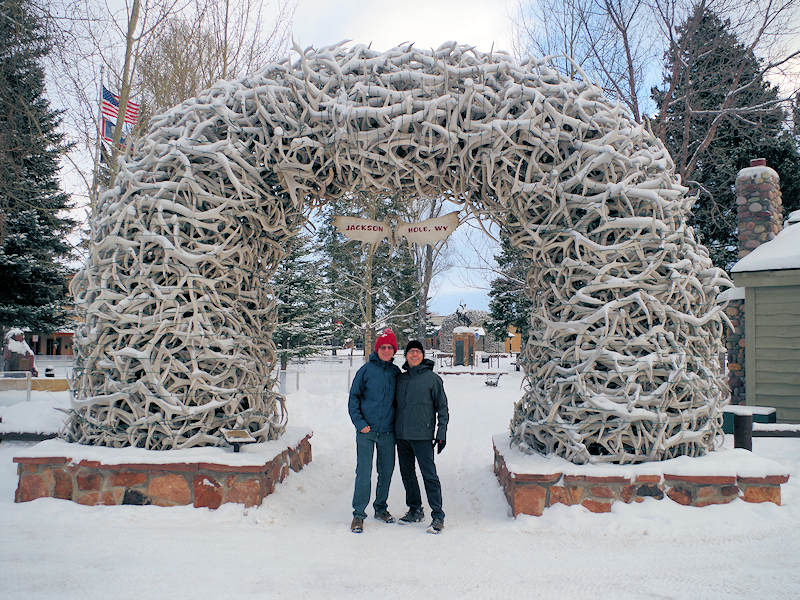 After entering Yellowstone Park from the north (flying into Bozeman), we booked a snowcoach to drive through the Tetons to Jackson. Unfortunately, the pouring snow obscured those grand views. But we enjoyed our last night in Jackson before flying out.
For details on Winter Trips to Yellowstone, go to the National Park Website.